Phylogenetic targeting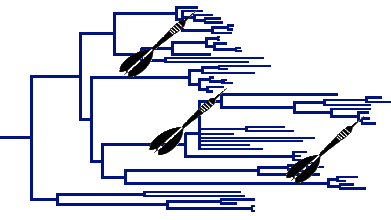 References:
Arnold, C., Nunn, C. L. 2010. Phylogenetic Targeting of Research Effort in Evolutionary Biology. American Naturalist 176:601-612. [PDF]

Project Description:
Here, I will introduce one of my previous research projects, Phylogenetic Targeting, which is more fully described in the official publication and in my Master's thesis [pdf]. For more information and a web implementation of the program, see http://phylotargeting.fas.harvard.edu. In what follows, we provide an abstract of the project.